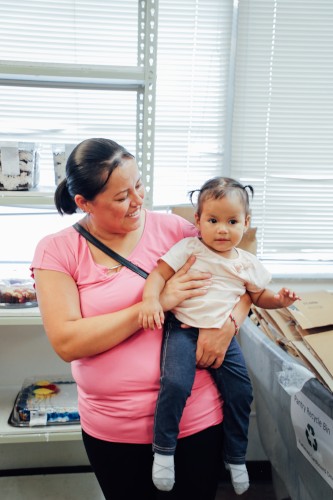 For many of us summer is a time for travel and fun; however, for thousands throughout Dallas County it is a time of stress as parents struggle to offset the free meals enjoyed at school. Crossroads client Melissa had this exact challenge before coming to our pantry. She had to say no to her hungry children when they asked for food. Now, they ask when she will be returning to Crossroads to replenish their pantry!
Through June, July and August, Crossroads will double the amount of food given to school-age children in our pantry and through our Community Distribution Partners. We hope that you will help us Stock the Pantry so we can continue to stock the pantry of Melissa's family and others like her. 
While any amount helps, your generous contribution of $100 provides enough food to feed Melissa's whole family all summer - approximately $1,000 worth of food! That is a tenfold return on your donation!
Your generous gift will help us provide tasty and nutritious food to the families we serve.
Will you please help Crossroads reach our goal of raising $30,000 so that our clients enjoy $300,000 worth of groceries this summer? 
We thank you and our clients thank you. With your help, thousands of parents can say YES this summer!